Apr 14
Migrating from Google Universal Analytics to GA4
Google has launched Google Analytics 4 (GA4) which will be taking over from Google's Universal Analytics (UA) and the deadline to do your migration is looming. As of July 1st 2023, UA will no longer be processing new data, therefore Google is encouraging businesses to transition to GA4 as soon as possible. GA4 is not just an upgrade from the existing Google Analytics but is a completely new platform and ensuring your tracking and reporting is set up correctly is important. There is currently no deadline set for the full phase out of access to the old Google Universal Analytics, but it is important to switch over to GA4 to start capturing data in this new platform. We know data and analytics can be overwhelming, so we've taken the time to give you the top level overview of what this change will mean for your business and a few hot tips on how to handle the migration from UA to GA4 in the lead up to July 1st 2023. 
So, What is the difference between Google Universal Analytics & GA4?
Consider GA4 the more well-oiled machine, like the Ferrari upgrade from your hatchback Toyota. As GA4 is the most recent update for Google Analytics, there are quite a few key differences between the two platforms. These include…
1. User-centric measurement
Cross-device tracking and event tracking are included features for businesses to enhance their understanding of their customers behaviours and their interaction within various touchpoints. 
2. Reporting Enhancements
Reporting in GA4 delivers an interface which is more efficient and instinctive in comparison to Universal Analytics, including ready-made features and reports. Below is an example of what the reporting dashboard looks like in GA4.

3. Improved Data Privacy and Compliance
Compared to UA, data privacy and compliance is better controlled in GA4, for instance offering customers with options for when they decide to withdraw consent or delete particular data, as well as supporting the management of data quality and data governance. UA and GA4 present different ways in which they collect data. GA4 offers to not use Cookies to track customer data, instead using event-based tracking to recognise customers across multiple sessions or across devices.  Given that Apple has phased out third party cookies and Google will soon follow down this path, this is very important.  This means a variety of data will be collected and tracked to show user behaviour as they explore and engage in your websites and apps. 
Up front set-up and planning is offered in the implementation process of GA4, which differentiates from UA. While GA4 tackles customer reporting differently than Universal Analytics and will take some getting used to, the potential that the platform has well exceeds that of UA and will deliver benefits over time.
4. Major Data Infrastructure Improvement
Google has learned a lot from the build and implementation of their App Analytics tool Firebase and have applied that to what they built for GA4.  The back end database utilised for GA4 has much better capabilities for capturing, organising and structuring data, which makes it much more capable of machine learning being done over the data sets that you are capturing.
What does this mean for your business?
The bad news is that a GA4 migration will mean change – and most people don't love change.
The good news is that a GA4 migration will deliver better insights for your business! 
GA4 gives you access to advanced new features and reports that UA has not been able to offer. These include:
Cross-platform tracking that allows you to measure marketing success across platforms

Funnel analysis which maps flow of visitors across platforms

Machine learning that provides insightful suggestions based on data. 

And much more
These help your business get a deeper understanding about customer behaviour and optimising user experience strategies for marketing purposes. The event-based model can enhance marketing decisions for your business by shaping customer interactions, engaging customers based on behaviour, and generating helpful interactions for customers. 
With these insights you can make better business decisions by understanding your customers across multiple touch points such as identifying how your brand brings awareness, general evaluation of your business and the post-purchase behaviour of customers. 
Another important capability is helping you understand the Return on Investment (ROI) from your marketing activity using data-driven attribution settings. This setting
allows a complete analysis of the full impact upon your businesses marketing throughout the entire customer journey. Using this data through an integration with the Google Ads and Google Marketing Platforms enables you to pass performance data which is then used for training marketing campaigns, making them more effective over time. 
GA4 was designed to adapt with new technologies and accompany user behaviour. Your analytics strategy will be better future-proofed by moving to this new platform.  It will also supply you with tools and data to assist with changes within your business and your customers' behaviours. 
How to successfully migrate from UA to GA4
There is always the option to come to us and get us to do it for you. We are here and happy to help. The process itself is not overly complex however and if you have a good understanding of your analytics strategy you might well be able to complete your migration yourself.
While most Agencies will hide behind smoke and mirrors, making this seem like a highly complex process so they can charge you to do work you could do yourself, that is not our style. Here is a guide on how that migration can be done for your business so that you can see what is involved and make an informed decision on whether you want to do it or you want to get our experts to do it for you.
The Step By Step Guide
We've pulled together a simple and easy step by step guide on how to migrate to GA4 based on information provided by Google. The following is a complete manual to begin the migration from UA to GA4 into a smooth transition. Doing these steps ensures data is transferred correctly and accurately reporting on the metrics you care about, rather than using Google automatic migration where more issues tend to occur.  
To be clear – we highly recommend doing this process manually because the automated process can cause problems with tracking and advert campaign training that can cost your business money.
1.Install GA4 by navigating to the admin section of reporting view in GA3 property. Open the admin section and begin the process. 
2. Click on 'GA4 Setup Assistant' under the property column

3. Click the heading which says 'I want to create a new Google Analytics 4 property', the clock 'Get Started'
4. Click the 'Create Property' button. Google Analytics will then automatically create a new GA4 property. This current GA property will continue to exist, and you will have access to at least two GA properties. The Analytics tag must be added manually if you use a website builder. For the data to start flowing, you will need to configure Google Tag Manager as the GA property will not start gathering data until this happens.
5. Click 'see your GA4 property', a new tab will open then clock on the data stream link then the 'web data stream' option shown. 
6. From the Tagging instructions section, select 'use existing on-page tag'. From the drop-down option select 'Google Tag Manager' which will then show instructions for setting up a tag so you're able to track your web data into the new GA4 property. Make sure you note down the measurement ID for future reference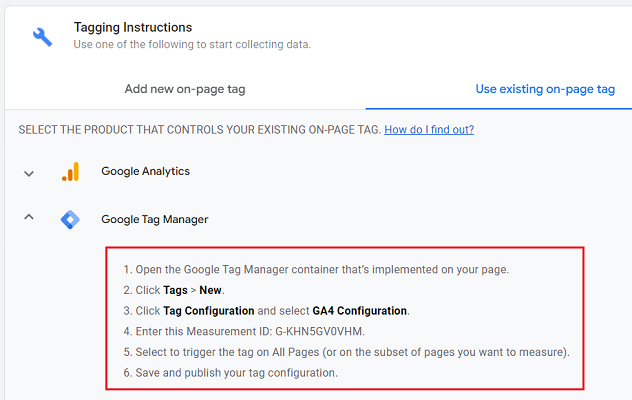 7. Go to Google Tag Manager account and click the link for New Tags, give it a name then choose Google Analytics: GA4 configuration as the tag type.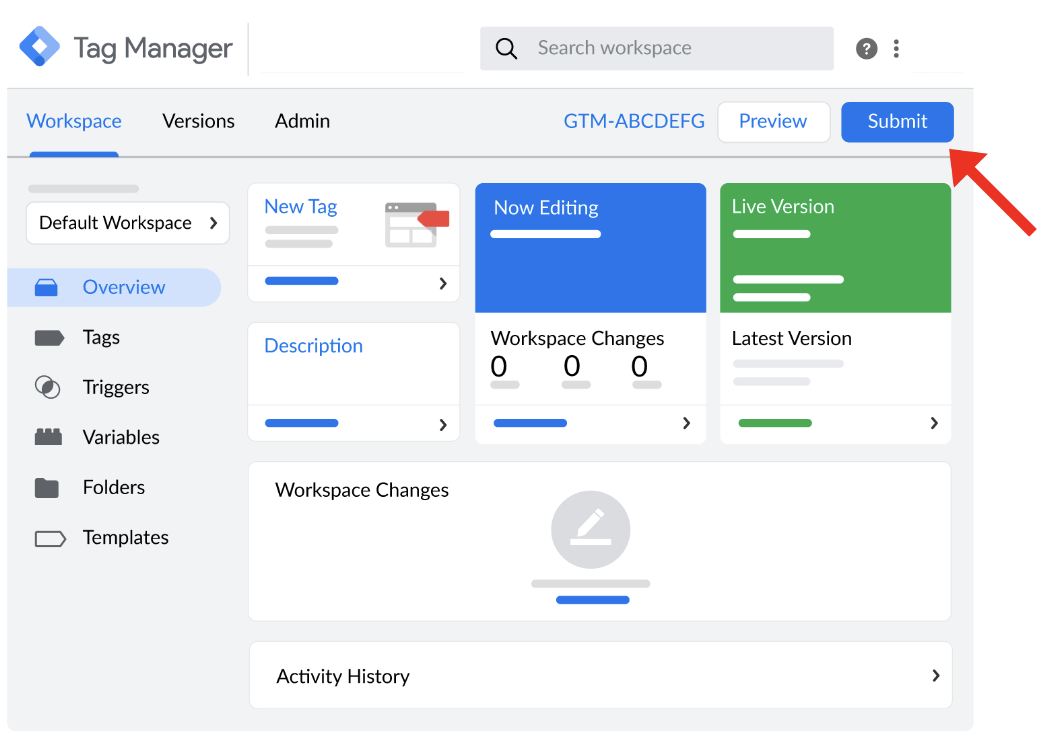 8. Type the measurement ID you recorded earlier into the 'Measurement ID' text box. Trigger fires should be on all pages. Click the 'save' button in the top right corner to save your tag.

9. If you click the 'preview' button in the upper right corner. A Tag Manager preview mode will open in a new browser tab
10. Enter the website address and click 'connect'. Your website will then appear in a new browser tab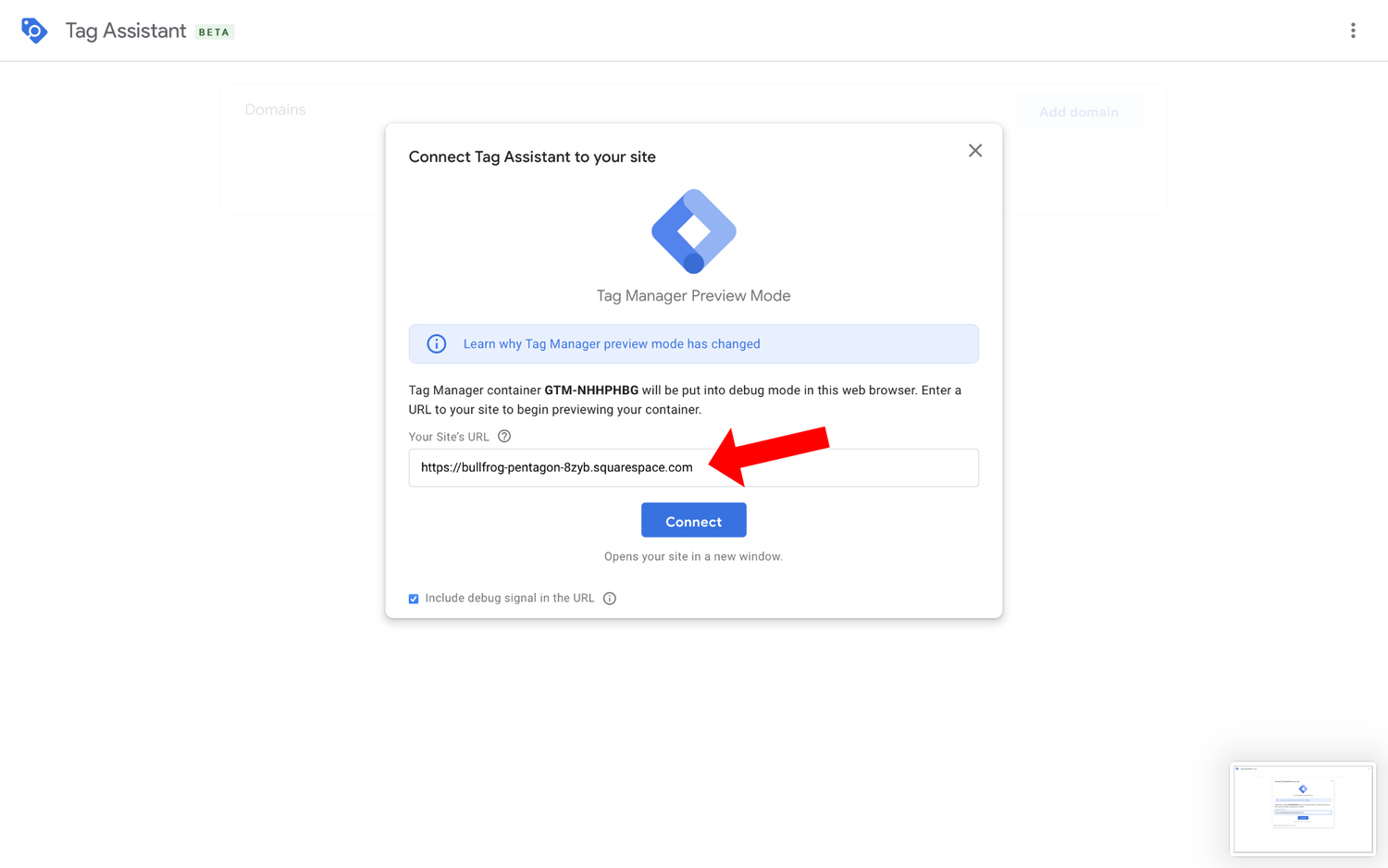 11. Return to the browser which displays the Tag Manager Preview window mentioned in step 9. Click 'continue' then your tag is firing properly and you should see the tag 'GA tracking-All pages' in the Tags fired column

12. Once again, open the Google Tag Manager account and click the submit tab. Click the 'publish' button after you name the version. Return back to the website, open a few pages and review. Open GA4 property again and click 'cross button' which will be next to Web stream details
13. After all the steps are completed you should be able to select reports from the left menu, your home page reports snapshot should be shown 
Keen to get granular? Here's how you can set up customer event tracking 
GA4 has the ability to track basic metrics, but these do not provide in-depth insights into user behaviour. Customer event tracking is used to show specific actions that users perform when on your website or app. Tracking these actions allows your business to gain further insight of user behaviour, identifying areas of improvements, and creating data-driven decisions to benefit your business and track conversion goals. Here are the steps for setting up Customer event tracking:
In GA4, go to 'Configure', then 'events' and click on 'create event'

In screen shown next click 'create event' again

Fill field which says 'Customer event name'

Change the matching conditions of your event to suit you

Copy the parameters of the original event (optional but recommended)

Click 'create', then a summary of your customer event you created will appear
The migration from Google's Universal Analytics to GA4 might seem daunting but the sooner you take the leap the better. If you are a current R6 Digital customer then we will have already done the set up for you or are just about to.
If you are not a current R6 Digital customer and want help making this change then please get in touch and we will be happy to do the migration for you.  We can also chat with you about how else we can support you to grow your business with Google Ads, Search Engine Optimisation (SEO), Social Media marketing and more.
We  hope this article will help you migrate from Universal Analytics to GA4. The team of experts at R6 digital have the experience and knowledge to assist you in making the most of your business. Contact us if you would like to learn more about our marketing services and how we can help you to achieve your business goals.