Jul 06
Three types of video your brand needs The number of brands using video marketing is growing exponentially. If you're not using this incredibly powerful medium, it's time to start.
Why use video to grow your brand? 
With 69% of consumers indicating that they prefer to learn about brands and their products/services via video, the advantage is clear. Plus, video places fewer restrictions on the form of content advertising you can do. With other media, you may face restrictions such as channels placing limits on the amount of text you can incorporate, some allowing only images, others only audio, however with video you're free to combine all of these in new and imaginative ways.
If you're already sold on using video in your marketing, and wondering where to start, read on. In this article, we'll take a look at the three types of video you need to effectively grow your brand.
The Brand Experience Video 
There is no better way to engage visitors to your website or social media pages than with a captivating brand experience video. To be effective your brand experience video must do three things: 
Showcase your brand 
Make this happen by first getting clear about your brand identity and brand design. You also need to decide which areas of your business you would like to highlight in your video. Hint: focus on the benefits you offer, the problems you solve and the values you hold dear if you really want people to connect with your brand.

Every aspect of your brand experience video from the marketing materials and product samples that appear in your video to the clothes, hair and make-up you and your staff members wear should showcase your brand identity.
We recommend hiring a professional videographer to shoot your video to ensure you get a professional video that you can use with confidence. 
Tell your story
Humans are by nature storytellers and story lovers. Nothing will get your target audience to stand up and pay attention to your brand more than a great brand story told through the powerful medium of video. Be frank and open as you take us through the story of your brand and highlight the path you want your clients to walk with you in future.  
Drive brand awareness 
To experience the full effects of the brand experience video's power to drive brand awareness and extend your reach, be sure to use it wherever you engage with your target audience. The use of video enhances the digital experience for visitors to your website and social media pages, and you can also use it in your email marketing and even showcase your video at functions, conferences, meetings and events.
Explainer Video 
Explainer videos or 'how to' videos are great ways to show off the features and benefits of your product or service. Keep your explainer videos entertaining, relaxed and up beat. If possible, get creative and include a few different elements of video design such as video animation, or motion graphics (like animation but with text as the major component). 
These videos have been shown to assist customers with product evaluation. Showing people how your product or service works in the video, helps to remove elements of doubt from the purchase decision. If your prospective customers can see the product in action, they feel more confident about buying it, this increases your conversion rates.
Plus, it's easy for people to share the video and recommend the product or service to their networks. There's that wonderful extended reach again!
Testimonial Video 
Nothing you can do as a marketer can sell your product or service better than recommendations from happy customers can. While word of mouth is the most powerful method of recommendation, the testimonial video definitely carries a lot of weight. 
Testimonial videos are a powerful way to build social proof because you have a real person talking on camera. Video testimonials are often perceived as more authentic than written testimonials which may have been altered or even been completely made up.
These videos help prospective customers to understand the value that your business has delivered for others, which makes the purchase decision that much easier.
For testimonial videos, you don't always need to hire a videographer because you don't necessarily need the professional videography that works best for a brand experience video. In fact, in some cases, the less polished testimonial videos appear, the more credibility they tend to carry because they seem more 'real'. You might like a professional to help you bring them all together in a beautiful way that's aligned with your brand.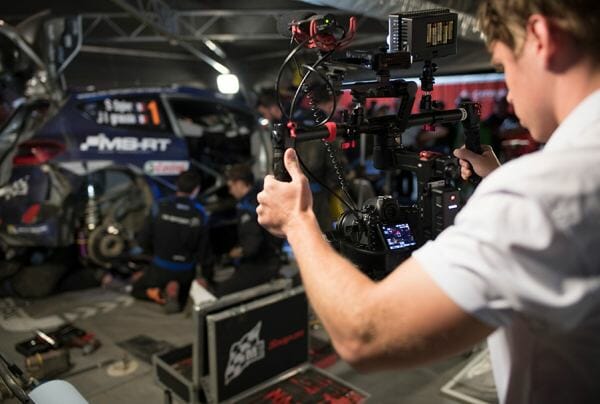 Video Marketing is Incredibly Versatile
These are just three of the many ways video marketing can be used to drive brand awareness, extend your reach, generate more leads and grow your business.
Whether promotional, informative, testimonial or even live streamed with Q&A sessions, videos provide you with endless opportunities to engage your prospects and turn them into customers. Plus, video can be used across a wide range of platforms (e.g., websites, social media or email), extending your reach by orders of magnitude.
Need help creating powerful videos to grow your brand?
If you're a small to medium business anywhere in Brisbane, Sunshine Coast or Gold Coast, and you're keen to know more about how to unlock the power of video marketing for your business, explore our range of video marketing services or, better yet, get in touch with us today.